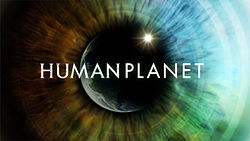 Human Planet is an 8-part British television documentary series. It is produced by the BBC with co-production from Discovery, BBC Worldwide and France Televisions. It describes the human species and its relationship with the natural world by showing the remarkable ways humans have adapted to life in every environment on Earth.
Announced in 2007, the production teams based at the BBC Natural History Unit in Bristol and BBC Wales spent three years shooting over 70 stories in some of the most remote locations on Earth spanning about 40 countries. Each episode of the series focuses on a different human-inhabited environment, including deserts, jungles, the Arctic, grasslands, rivers, mountains, oceans, and the urban landscape.
For the first time on a BBC landmark series the production had a dedicated stills photographer, Timothy Allen, who documented the project photographically for the books and multimedia that accompany the series.
International Broadcast
Edit
Country
Network
Narrator

United Kingdom

BBC One

Eden

John Hurt

United States

Discovery Channel

Discovery en Espanol

Mike Rowe

Gael Garcia Bernal

Australia
ABC1

Latin America

Brazil

Discovery Channel

Gael Garcia Bernal

Milton Nascimento

Hong Kong
TVB Pearl
Wong He

Turkey
NTV
Tuncel Kurtiz

Singapore 
BBC Knowledge

New Zealand
Prime

Germany

ZDFneo

Servus TV

Israel
Channel 1
Kobi Meidan

China

CCTV-9

CCTV-1

Philippines

GMA News TV

GMA Network

Kara David

Netherlands
Omroep NTR
Carice Van Houten

France
France 5
Fabien Autin

Iran 
IRIB Mostanad

Finland
YLE TV1
Tuomo Holopainen

Portugal
Canal Odiessa