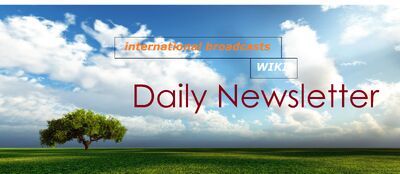 News, sport and entertainment
for the stylish you!
The IBWiki Daily Newsletter is International Broadcasts Wiki's official newsletter. Because of this, you can easily get information about what the community is talking about, what's up around the world, what our favorite athletes and teams doing in their game, what movies you should watch in your area, what shows you must watch and new updates to the policies and the wiki. 
Wikipedia
Vevo
Fernsehserien.de
BBC News
InterAksyon.com
Google Images
New daily issues will be released once a month
Preview issues will be released every first Friday of every year. 
PREVIEW ISSUE -  December 31, 2013: Online
PREVIEW ISSUE - January 1, 2014: Online