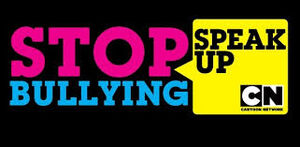 Stop Bullying: Speak Up is a campaign from Cartoon Network to prevent bullying. The campaign is sponsored by CNN, Sports Illustrated, Time Magazine, People Magazine, HLN, and the CNN news show, Anderson Cooper 360. A music video and a special presentation about the campaign has premiered on Cartoon Network. 
The special presentation began with a message from US president, Barack Obama. The presentation features real kids talking about their experiences in front of bullies. 
Disclaimer:
Edit
Speak Up features real kids talking about bullying that happened to them. Bullying is never cool, it hurts, and some of the language you'll hear in the presentation is insulting and mean. We hope you and your family watch this together and talk about what you see.Thank you for joining us to speak up against bullying. To learn more, go to www.stopbullyingspeakup.com
Bullying Stops Here:
Edit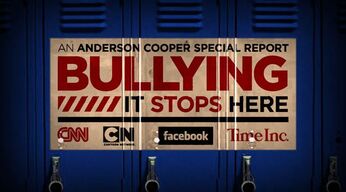 CNN news show, Anderson Cooper 360 has premiered a TV special on CNN regarding bullying and how to prevent it. The special is sponsored by CNN, Facebook, Cartoon Network and Time Inc. It discusses the risks of bullying in the US. It is hosted by Anderson Cooper with special guests Dr. Phil McGraw, Rosalind Wiseman and others.